Fotolia
Six SharePoint capabilities that will shake up the enterprise
The demand for collaboration in the workplace has spurred Microsoft to release new SharePoint enhancements that allow users to collaborate and work more efficiently.
Since the introduction of SharePoint Online, SharePoint's user base has increased significantly, due to subscription-based pricing and a flurry of new SharePoint capabilities and enhancements. However, some of the new enhancements added to the platform require preparation and a deeper understanding of what these features can bring to the table in order to avoid overwhelming users with too many changes.
The popularity of Office 365 has encouraged Microsoft to ensure that its online services integrate with it seamlessly to increase efficiency and result in higher adoption rates. This has resulted in Microsoft tailoring many of SharePoint Online's new enhancements, such as PowerApps, Flow, Office 365 Groups, modern pages and Embedded Power BI, toward bringing Office 365 services into the platform and blurring the lines of where SharePoint begins and ends.
Some of the new enhancements are significantly different from the typical features seen in previous SharePoint upgrades. They require a change in how the end users interact with SharePoint and other Office 365 services. This is forcing many SharePoint implementation teams to rethink how they approach new features, and what these features can mean to end users.
Here are the six most recently released SharePoint capabilities.
Office 365 Groups within SharePoint sites
With every new subsite that is created within SharePoint Online today, site administrator can leverage Microsoft's Office 365 Groups as part of it. This new feature allows end users of a site to have access to a new set of communication methods, in which multiple site members can collaborate and have their own private or public workspace.
Users can now seamlessly access files, team calendars, conversations and connectors to Software-as-a-Service-based services just by clicking on the Group Conversations icon under the new site, as shown in Figure 1.1. While the new feature makes collaboration among team members highly effective, it does take end users outside of SharePoint to a separate web interface, where these services are made available, while still maintaining the storage of the documents directly in SharePoint.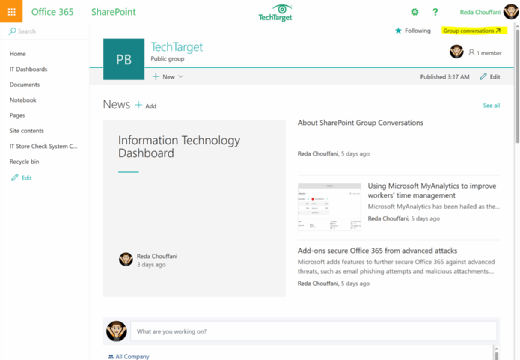 Goodbye InfoPath, welcome PowerApps
It came as no surprise to many SharePoint administrators that, when Microsoft announced the end of InfoPath, many waited impatiently to hear what the planned replacement for the tool was going to be, due to the popularity of the application. InfoPath allowed companies to build forms to capture various business data elements.
When Microsoft introduced PowerApps, a platform that enables users to create mobile apps that interact with business data with zero code, it was clear to many that this was the long-awaited replacement to InfoPath. Today, PowerApps is used for more than just delivering mobile app-like interfaces to SharePoint lists. It can also deliver business data from multiple data sources to tablets and mobile devices.
New workflow capabilities
Another area that many users need to get acclimated with in SharePoint is the new workflow capabilities introduced as part of Microsoft Flow. With the increasing demand for workflows extending beyond the boundaries of SharePoint and into external online services, Microsoft is now making it easier than ever for businesses to build advanced workflows that can interact with Salesforce, Twitter, Dynamics and other services, without requiring any coding. Business users can now easily build their own automations.
The mobile experience is updating SharePoint pages
With the increase in users accessing data through mobile devices, and the availability of the SharePoint native app, Microsoft is now offering a new layout for its SharePoint modern pages. This layout is simple, yet offers some powerful capabilities. With the ability to include rich text, images, videos, news, Yammer, highlighted content, dashboards and site activities (Figure 1.2), when a user creates a new page, they can readily stack any of the above content as part of their new page.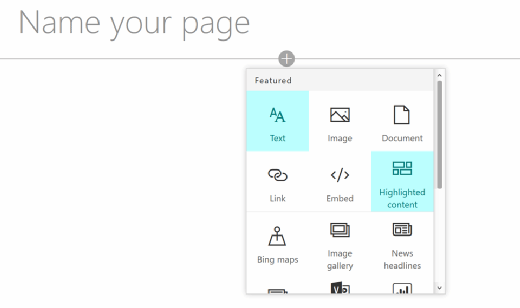 Content promotion gets a boost from AI
With the introduction of Delve as one of SharePoint's new capabilities, content being displayed to users is no longer limited to which documents are most popular, or which have simply been tagged. Delve can recommend content to end users based on site activities with the help of AI. The system analyzes the content available within the site and makes recommendations to users. This allows end users to have visibility of content that is relevant to their role within the organization, as well as any documents that they might be interested in viewing.
The rise of Power BI
Organizations that have used PerformancePoint, Power View and reporting services in the past have likely realized that a move to SharePoint Online would mean giving up old dashboards. While Excel Services still exists within the online service, and while it can still display charts, dashboards are now available within SharePoint through Power BI SharePoint (Figure 1.3).
Many enterprise organizations can now use Power BI as their method of showcasing dashboards within the intranet portal. However, it is important to be aware that while SharePoint supports Power BI dashboards, only Office 365 E5 users have licenses for it. Otherwise, any other licensed SharePoint user would be required to have their own Power BI Pro license to consume any enterprise-wide, data-driven dashboards.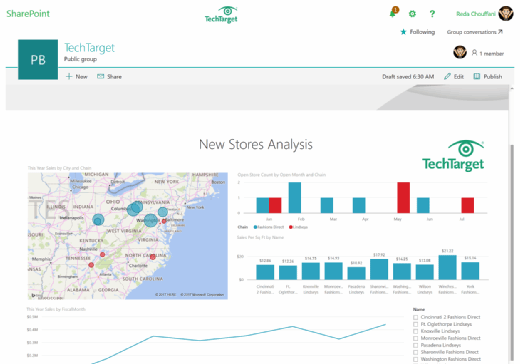 With these new SharePoint capabilities and enhancements, organizations planning to implement these features recognize that it will take more than just a SharePoint expert to explain and train users on these new features.
These newly released features have already been demonstrated to be more challenging after implementations, but they offer some of the biggest opportunities to enterprise users for better collaboration, accessibility and efficiency. SharePoint administrators must be prepared to face resistance to some of these components, and should plan ahead for their implementation to ensure alignment with what the organization's users really need.