Fotolia
Slack Technologies gains enterprise momentum
Slack has earned a coveted spot in the collaboration software tools market. Can it avoid the fate of previously forsaken collaboration tools?
As companies strive to simplify and modernize team communication and content sharing, new technologies have emerged in the collaboration software space. These tools aim to fill historic gaps in user-friendliness and adoption.
Slack Technologies has been one of the collaboration software tool vendors to rise to the top of the heap. Users like Slack because it poses fewer obstacles in the course of team communication -- a common complaint about other software tools. Tools that require many steps to complete a task are often dead on arrival. Users tend to avoid applications that require unnecessary work to collaborate -- they want collaboration tools to make work easier, not to layer on new tasks just to enable communication.
Launched in 2013, Slack Technologies has grown substantially. As a venture-backed startup with valuation of nearly $4 billion, the company is disrupting the communication tools market, taking central aim at email as the primary team communication tool.
Slack was inspired by internet relay chat and started by expanding on the IRC user experience, including both modern client apps and the IRC bot model. Slack includes Slackbot, for example, a bot that's helpful in getting started with and configuring a Slack team environment. Slack also incorporates modern social features such as the ability to "like" posts -- or otherwise react to content, with an extensive emoji palette -- and @mention other users.
Here's a snapshot of the Slack interface: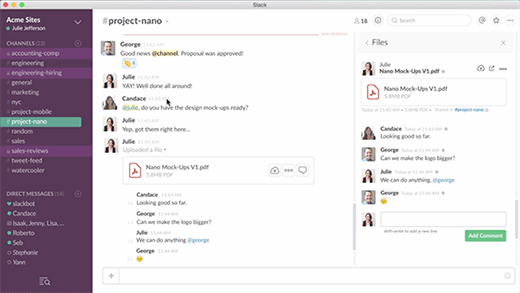 Anyone familiar with other chat tools is likely to find Slack easy to understand and use. It is a superset of familiar chat and instant messaging tools that offer options to organize topics into channels, along with support for group-based chat and a variety of enterprise integration options. In another boost to its viral adoption, Slack is free for small teams -- with a limited, but useful range of capabilities; see the Slack Pricing Guide for details on its Standard, Plus and Enterprise ("coming soon") licensing levels.
There is likely to be increasing competition to integrate and control the user experience.
Slack incorporates a powerful integration and extension architecture, and can be used in conjunction with a variety of apps (see the Slack App Directory for examples). It's easy to set up Slack integration with file sharing services such as Box and Dropbox, for example, and to use Slack for sharing and having conversations about files managed in those services. Slack can also be used with a slash command interface -- for example by entering, /who to list the users in the current channel or group context -- and developers can use the Slack application programming interface, and Slack apps, to add commands, making it possible, for example, to use a simple slash command in a Slack channel to query and display a given customer's current status from Salesforce or another cloud-based app. Ironically, it seems an old-school command line interface is a primary part of modern collaboration tools.
Slack is especially popular with software developers and technology-driven companies, in part because it supports source code snippets -- and retains formatting for a variety of programming languages -- and also due to integration options with developer-oriented tools and services such as GitHub and New Relic (see the developer tool section of the Slack app directory for more details).
Slack takes a crack at the communications stack
Slack is often seen as directly competitive with email, offering a way to reduce email overload and misuse. Many Slack users have found it to be a productive alternative to email for many communication needs, although there are open questions about how effectively its team and channel model can scale to address enterprise-wide groups.
In the broader landscape, Slack directly competes with other group chat offerings such as Atlassian HipChat. It also overlaps with communication and collaboration tools and services that include activity stream-based user experiences, such as IBM Connections, Jive and Microsoft Yammer.
Slack also overlaps with real-time communication tools such as Skype. Slack Technologies is adding real-time voice and video services -- based on its 2015 acquisition of Screenhero. The Slack/Skype integration is an interesting complement/compete case study, as Slack also supports integration with Skype.
The combination of communication tools and services included with Slack is clearly resonating with a large user community, as captured in the growth chart below.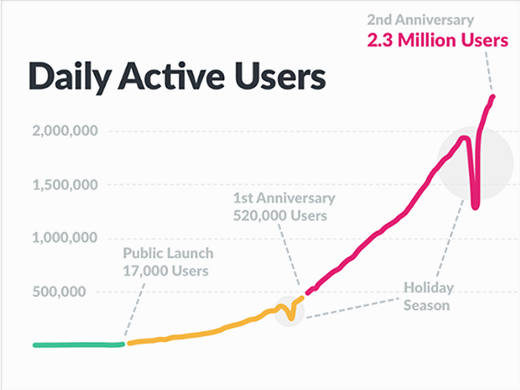 What does Slack lack?
The market landscape model as described in a recent blog post by Asana co-founders Dustin Moskovitz and Justin Rosenstein, captures an approach that's likely common to many Slack users: leveraging a combination of tools and services from providers for file creation and sharing, messaging and communication, and work tracking.
As customers consider existing Slack features and request new ones, there is likely to be increasing competition to integrate and control the user experience across all three communication, collaboration and coordination domains. Slack may work to provide more extensive file creation and sharing capabilities in the future, for example, and is also likely to expand to address more general-purpose collaborative application development. Slack and six of its investors have also created an $80 million Slack fund "to support and encourage developers to build apps that interact with Slack," according to the company's website.
Atlassian, also a collaboration software tool, is another leading indicator in this context, as it offers Confluence, for wiki- and document-based collaboration, and JIRA, project and issue tracking, along with HipChat and other related tools and services. Although not aggressively promoted, Atlassian had its initial public offering in late 2015 and, as of April, has a market capitalization roughly $1 billion larger than Slack's valuation.
Where else could Slack attack?
While the reciprocal customer/supplier relationships among Slack and other vendors such as Dropbox and Asana may represent widespread deployment patterns today, a strategic question for Slack's senior management team pertains to the company's positioning relative to Microsoft, Google and Facebook. Microsoft was rumored to have considered an $8 billion dollar acquisition offer for Slack, for example, and there is significant competitive overlap between Slack and Microsoft offerings including Yammer, Skype and Office 365 Groups. The "organization-wide reporting, metrics and analytics" in the forthcoming Slack Enterprise edition will further expand competitive overlap with Microsoft.
Google is also likely tracking Slack for its fit relative to the Google Apps for Work suite of services. As Google continues to regroup after Google+ proved unsuccessful as a general-purpose collaboration environment, it too may find Slack an attractive acquisition candidate.
The imminent release of Facebook at Work looms large for all competitors focused on enterprise communication, collaboration and coordination. It could make Slack more acquisitive to flesh out its portfolio or make it a more attractive acquisition candidate.
Slack Technologies started by providing more effective team communication with an IRC-like model and then rapidly expanded its scope, partner ecosystem and customer base. It has established a large and enthusiastic user and partner community and is likely to continue to have an impact on the future of enterprise communication, collaboration and coordination.
Next Steps
Have collaboration tools found their mojo?
Collaboration tools are still onerous
How to use collaborative tools within and outside your company