pressmaster - Fotolia
What Microsoft is doing to win the most SMB clients in the cloud wars
Microsoft focuses on developing affordable products aimed at garnering the most SMB clients in order to get a leg up in the cloud wars.
Just a few years ago, Microsoft was woefully behind in the cloud wars. Companies like Salesforce, Google and even Oracle were eclipsing the company when it came to cloud computing.
But Microsoft's customer base, of which no small part is made up of small and medium-sized businesses, knew it couldn't cede the cloud to its competitors. CEO Satya Nadella joined the company in 2014, ushering in a host of changes -- not the least of which was a cloud-first, mobile-first orientation. Nadella saw clearly that Microsoft's SMB customers needed access to their data and applications from the road, from the home office, from remote offices or from a conference room to present to the team.
By the end of 2014, 38% of U.S. small businesses deployed cloud services, compared with only 21% in 2013, and IDC expects this to grow to half of all small businesses by the end of 2015.
An ERP system tends to be one of the applications that is commonly used to help manage critical aspects of companies, such as financials, sales and scheduling. These applications are considered critical line-of-business applications, so companies like SAP, Microsoft and Infor have historically been known for offering these systems. But due to some of the high costs of these systems, only large enterprise companies have shopped from these vendors. In recent years, a shift in targeted clientele was obvious. With the introduction of hosted Dynamics GP and SAP Business One in the cloud, many of these big ERP vendors began to target the SMB space.
Due to Microsoft's growing success in the cloud wars -- and especially its Office 365 platform -- the company has set its sights on further building its SMB base, and it continues to offer new products and services that can benefit this space. Microsoft has not limited itself to offering hosted emails, Dynamics CRM, Dynamics GP and SharePoint, but continues to add innovative services to its stack to keep its clients and prospects engaged.
For small businesses like spas, pet groomers and HVAC services, Microsoft many not be the company of choice initially to help run their businesses. But when you consider the fact that these companies all require means to track sales, work orders, financials and even scheduling, Microsoft's cloud services can, in fact, fulfill those needs and help support those organizations.
The focus Microsoft is putting on attracting more clients in the SMB space comes in the form of innovation and ensuring its products are available in a Software-as-a-Service (SaaS) model. Microsoft Dynamics CRM has given serious competition to Salesforce in the cloud wars through continuing to develop enhancements, build new functionality and offer affordable prices. Microsoft's accounting package GP, or Great Planes, has been redesigned to now support a full SaaS model and attract small businesses due to its affordability.
However, the unexpected introduction of Microsoft Bookings changes the conversation a bit. Microsoft is not just focusing on its big flagship products to help the SMB space; it is also adding innovative services that would offer significant value at no additional cost to its current users. Microsoft announced the introduction of this product in late summer 2016, and it describes the platform as a means for small businesses to solve some of their common scheduling challenges. The product is a web-based service that enables companies to share their availability and offer their clients the ability to request or even book appointments online, as seen in Figure 1.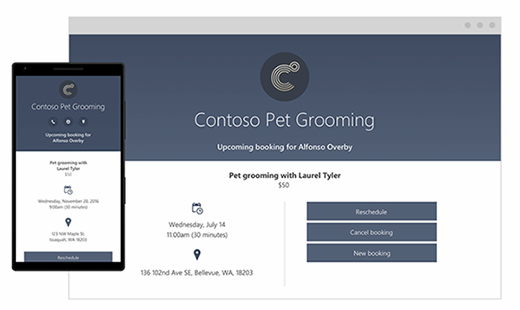 The new scheduling assistant tool, as seen in Figure 2, has certainly attracted the attention of many groups. In its blogs, a number of users posted feedback requesting that the platform should also be offered to education and enterprise plans, since those are not considered business premiums.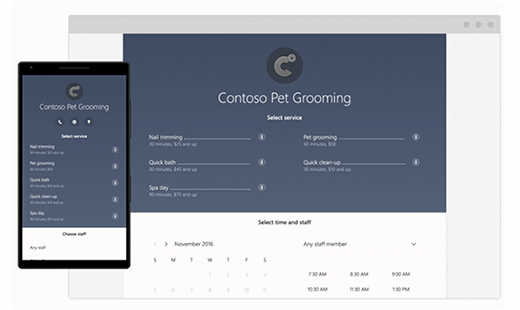 Similar to many other recently published services by Microsoft, the product holds the typical two characteristics Microsoft CEO Satya Nadella has described in one of his early 2014 press announcements: mobile-first and cloud-first. The new Bookings product seems to meet the criteria. The service is, in fact, offering the SMB space a mobile service, while still eliminating the need for any hardware.
This seems to be yet another indicator Microsoft is not necessarily looking to generate revenue from some of the new add-ons, but is using it as a leg up in the cloud wars by attracting SMBs to consider its cloud services as a whole. With the availability of the different bundled services, businesses today are likely to consider Microsoft for many of their technology needs, and they are certainly able to find services that can address sales, accounting, marketing, analytics and much more.
Dig Deeper on Content management integration strategy